Medium gold color with hint of green; citrus, nectarine on the nose; apricot, nectarine, grapefruit, green apple, lemon on the palate.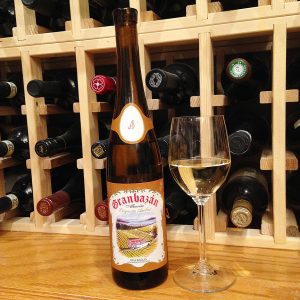 Dry; vibrant, flinty, cutting acidity engages on the attack and promises this will be excellent food wine, especially with shellfish, white-flesh fish, garden salad. Nicely long finish with delicious acidity and minerality that persists to the end. The wine is made using cold maceration and no oak, preserving the bright orchard and citrus fruits and the bracing acidity that make this a superb expression of albariño. Fermentation is in concrete tanks, meaning more oxygenation than stainless steel and a rounder, fuller texture.
The wine comes from Rias Baixas, Spain's leading white wine producing region and the only Spanish DO for white wine. Rias Baixas is known for whites in similar way Rioja is for Spanish reds. Rias Baixas is located in northwestern Spain, above the border with Portugal. Across the border, literally on the opposite bank of the Minho River, the grape in this varietal is called "alvarinho" and is the principal grape used in vinho verde wines, although Portuguese also use the grape to make whites similar to this Spanish effort.
Bodega Agro de Granbazán is located in Tremoedo, in the Saines sub-zone of Rias Baixas, well north of the Portuguese border, near the Atlantic coast. Owners Manuel Otero and his nephew Jesus Alvarez own 42 acres of 30-plus-year-old albariño vines and also have long-term contracts with nearby growers.
Albariño/alvarinho is a small, thick-skinned grape that resists fungal disease—important in Rias Baixas because the region receives so much rain. The grape is low yielding and expensive to cultivate—most vineyards, including Bodega Argo de Bázan—use the pergola (parra) system for training vines to give the grapes maximum exposure to sunlight. The system also means harvesters sometimes must stand on boxes or ladders to hand-pick the grapes. Only free-run (juice produced naturally from weight of the grapes with no mechanical wine press employed, thus reducing bitterness from crushed seeds) is used to make this wine. Both the pergola system and the free-run decisions increase the price and the quality.
Agro de Bazán Granbazán Albariño Etiqueta Ambar 2015 is a premium example of famously food-friendly albariño wine. Superb, sharp fruit and acidity will allow it to cleverly pair with a range of foods in ways similar to sauvignon blanc, but with a creamier texture and a nose that is more floral than grass. If you have not tried an albariño/alvarino wine, you have missed out in your life's wine adventure. $19-25
Note: The winery's website exhibited very dodgy performance when I visited, but give it a try.
Bodega Granbazan website