Ruby red color with translucence; ripe red fruits, caramel, toast, spice, leather on the nose; red fruits, sour cherry, plum, raisin, spice, oak on the palate.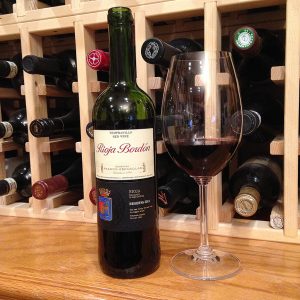 Predominantly tempranillo, abetted by garnacha tinta and mazuelo. The wine spent 18 months in American oak, so oak is a noticeable element, adding toast and chip of chocolate and vanilla. Dry; firm, dusty tannins; some balsamic bite with the acidity; black currant tang on the finish.
Located across the street from the Ebro River, Bodegas Franco-Españolas is one of the largest wineries in Spain's Rioja wine region. The enterprise began in 1890 as a collaboration between French and Spanish merchants, vignerons, and winegrowers led by Bordeaux négociant Frederick Anglade Saurat (Bodegas Franco-Españolas is Spanish for "French-Spanish Wineries"). French vineyards were in the throes of vineyard destruction with phylloxera at the time, and non-French wines were gaining market share as a result. French winemakers migrated to Rioja in particular. Rioja briefly flourished under the Bordeaux winemaker's influence, then phylloxera hit Rioja in the early 20th century.
Spanish partners bought out the French partners in 1922. The winery has been owned by the Eguizábal Family since 1983. The family has invested in improvements, particularly establishing itself as a leader in Rioja in the field of wine tourism, hosting a range of events and cultural activities, as a visit to the winery's website will reveal (click link below). Even before the Eguizábal efforts, the winery enjoyed its share of visits by famous figures: King of Spain Alfonso XIII in 1925 and American writer Ernest Hemingway in 1956.
Bodegas Franco-Españolas Rioja Bordón Reserva 2011 is a classic Rioja with all the intense, sharp, tart flavors you expect from a tempranillo, while the garnacha tinta and mazuel, plus the oak, sand off some of the edges and encourage complexity. Excellent value. $18-19
Bodegas Franco-Españolas website
Photos: Franco-Españolas winery; Franco-Españolas fermentation tanks; Franco-Españolas barrel aging; Franco-Españolas room set up for an event