Nice Burgundian red color with translucence; strawberry, plum, raspberry, spice on the nose; black plum, black cherry, berries, raspberry on the palate.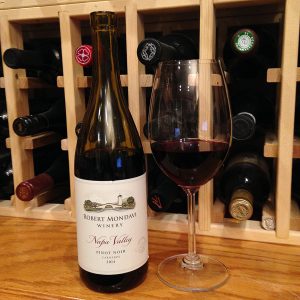 Smooth, relaxed wine with easy going tannin and just enough acidity for balance; clean, very serviceable if not awesome—which is perfectly fine for a pinot at this price point. Very dry, medium body, unexpectedly long finish given the initial attack and mid-palate. Intriguing wine with surprises, including a dalliance with too much oak that stops short of in flagrante delicto. Many people will like this restrained brazenness. It gets better with decanting, but the wine also loses some of its interesting edges after the air exposure. Tough call.
Robert Mondavi Winery is a master at superb, large-scale production of wine that faithfully expresses the varietal or style, a legacy of the founder, Robert Mondavi, who revolutionized wine making and marketing. Constellation Brands owns Mondavi now, but the affordable quality remains.
About an hour's drive north of San Francisco, Napa is the New World's most famous and prestigious wine region. Carneros includes parts of both Napa and Sonoma counties. Napa-Carneros lies immediately north of San Pablo Bay, and the cool fog and breezes from the bay make the climate in "Los Carneros" cooler than locations further north in Napa. That is ideal for pinot noir (and chardonnay). Carneros received AVA (American Viticultural Area) status in 1983 and was the first wine region in California to be defined by climate characteristics rather than political boundaries.
Louis M. Martini started the wine story in Carneros in 1942. By the 1970s, the region had more than 1,300 acres in vines and was particularly noted for California sparkling wines. When phylloxera attacked the vines in the late 1980s, grape farmers embarked on extensive replanting with phylloxera-resistant rootstock and introduced new French clones of pinot noir and chardonnay. Today there are more than 6,000 acres of vines in the 90 square miles of the AVA.
Robert Mondavi Pinot Noir Napa Valley Carneros 2014 is smooth and relaxed; it is not an awesome pinot noir, but it is very nice for the price—no small thing—and clearly superior to commodity pinot noir such as less expensive Mark West. As you would expected from Robert Mondavi and Constellation, this is dependably well made and widely available. $20-24
Photo: Robert Mondavi with iconic winery entrance in background.