Deep ruby color; rhubarb, red currant, cherry on the nose; rhubarb, cedar, sour cherry, plum on the palate.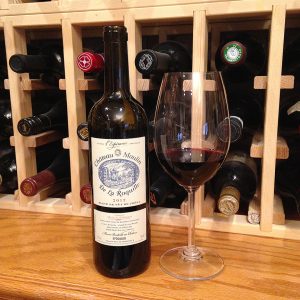 Rustic; medium-full body, extra dry; loads of puckering dark fruit, grippy tannin, sharp acidity; plenty of sour cherry through mid-palate and finish. Bordeaux blend of 75% merlot, 20% cabernet sauvignon, 5% cabernet franc. Hugely benefits from decanting—becoming much smoother and revealing the vivid fruit as the tannins blow off. I taste the first glass pop-and-pour; I then decant through the remarkable Menu Wine Breather system, which allows stark comparison of before and after. Decant this wine for full appreciation.
The estate that makes this wine has been in the Audouin family since 1964, when it was acquired by the owners grandparents, Jeanine and Robert Audouin. They did not start growing grapes until 1990. In 1993, Didier Audouin and his wife, Hélène took over management of the operation; the first wine was produced in 1996. The Audouin's son and daughter, Jérôme and Catherine joined the operation and brought 17 acres of Bordeaux Supérieur into the mix. Expansion continued with more family members joining with vineyard holds of their own. Today the entire operation has 93 acres of vines in the Les Bordeaux Supérieur and Côtes de Bordeaux appellations.
Château Moulin is not your elegant mansion surrounded by manicured grounds and vineyards. These are dirt-under-the-fingernails wine makers, the salt of the French winemaking earth. There is no English website, and the photos on their French language effort shows three generations in unglamorous snapshot of people at work.
Château Moulin de la Roquille Cuvee Speciale l'Esperance Cotes de Bordeaux 2012 will be a tough go for those who go for unchallenging, smooth, big juicy fruity sweet, generously oaked California commodity pours. This is not that. If you enjoy serious wine with unique flavors and mature palate challenges, this is worth a go—and you can do it for superbly nice price. $10-12
Château Moulin website (French)
Importers website (English)
Photos: Audouin family working Château Moulin vineyard; Château Moulin wine tasting