Inky almost black color; berries, spice on the nose; red berries, blackberry, cherry, spice, vanilla and oak on the palate.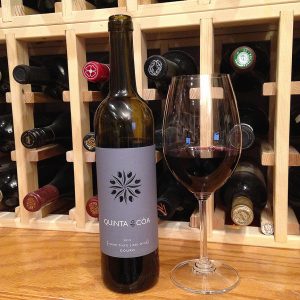 Blend of 60% touriga national, 30% tinta rorer, 10% touriga franca, all organically grown. The bottle has significant sediment, so decanting is wise.
Do not fret about the sediment—it indicates character and personality, particularly in an organic wine naturally made, which this is. Decanting also softens the oak and smooths the tannins, turning this from OK wine into one with greater depth and elegance. Fruit and finesse hold through the mid-palate and into a admirably long finish. Heavy body, coats the tongue in rich, red-fruit flavors. The wine gets better not only with air, but with your taste buds sorting out the dense dance of flavors captured in this bottle.
Rui Roberdo Madeira is the winemaker at CHARM. He first earned a degree in economics at Universidade Católica Portuguesa, then a winemaking degree from Universidade de Trás-os Montese e Alto Douro. He followed that up as a winemaking consultant in Argentina and South Africa, returning in 1999 to the family estate—CHARM (Casa Agricola Roboredo Madeira). He has been aggressive and innovative in years since, expanding the winery's portfolio and putting emphasis on organic farming and native grapes.
From his website: "I returned to the great Douro valley convinced that we have the potential to make the best wines in the world. Out of respect for nature, due to the way we cultivate our vineyards, my wines reflect my experiences, which smell and taste of my land, of schist, damp granite, rock rose, wild flowers and fruit. It is in my winery that I make wines with the character of our 'terroir', expressed through native grape varieties, which I instill with a style of their own and an international profile."
CARM Quinta do Côa Tinto, Douro 2013 is delicious, serious wine that significantly benefits from decanting, or at the least time swirling in large glass. It also is exemplar of the spectacular wines and huge values wines from Portugal offer today. $19-22
Photos: Duoro vineyards, winemaker Rui Roberdo Madeira