Pale yellow-bronze color with flecks of gold; yellow apple, almond, citrus, bread on the nose; apple, almonds, yeast, bit of citrus zest on the palate.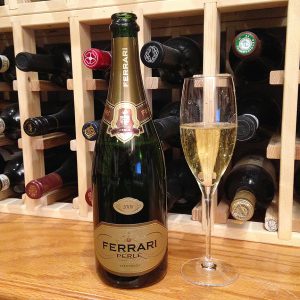 Magnificent perlage—persistent tiny, tiny bubbles—from this metodo classico technique (same as method used in Champagne). Superb acidity, yet smooth, plush in the initial attack, crisp, intense and complex throughout, some enhancing saltiness/minerality on the long finish. Ferrari deserves to be considered in the same quality rankings as Champagne. It is a step past prosecco and sparkling wines from same region, which is not a put down of prosecco-sparkling makers but a nod to Ferrari and the winery owner's—the Fratelli Lunelli family—achievement in quality winemaking.
This is 100% chardonnay from best vineyards in the Trento DOC. Four-plus years on the lees gives it creamy complexity and subtle almonds and yeast notes. The richness comes from aging, not dosage, which is a more time-consuming method and makes the price of this bottle even more amazing.
The Trento wine region of Italy is located in the mountains near the Swiss border, northwest of Venice, north of Verona, northeast of Milan. Ferrari dominates sparkling production in this region. The winery was founded by Giulio Ferrari—no relation to car maker Enzo—in 1902 when Trento was still part of the Austro-Hungarian Empire.
The operation has been owned by the Lunelli family since 1952—Giulio Ferrari had no heirs, so he hand-selected the next owner, Brunon Lunelli, who owned a wine store in the region and was committed to the high quality championed by Giulio. The Lunellis, now in their third generation of ownership, produce more than five million bottles a year, 90% sold in Italy, the U.S. is its next market. The current Lunelli managing generation includes Camilla and her brothers Alessandro, Marcello, and Matteo. Ferrari is the maker, but vineyards are hugely fragmented in the Trento hill/mountains so Ferrari works with some 600 growers to assemble grapes for their wines.
Ferrari played leadership role in establishing Trento as a DOC (Denominazione di Origine Controllata—a quality assurance designation); Trento DOC only applies to sparkling wine. Non-sparkling wine DOC's are Trentino and Alto Adige. Ferrari spearheaded the planting of chardonnay in this mountain region and the Lunellis continued that emphasis. The Trento DOC now boasts of having the largest planting of chardonnay in Italy.
Ferrari Perlé Brut Trento DOC 2008 is a superb sparkling wine at terrific price point. The house has justifiably received raves in recent years, receiving the "Sparkling Wine Producer of the Year" award at the Champagne and Sparkling Wine World Championships 2015, nosing out Charles Heidsieck and Luis Roederer, super heavyweights in sparkling wine. Ferrari clearly runs with the big dogs, as a taste of this effort vividly demonstrates. $38
Photos: Giulio Ferrari; Bruno Lunelli at his wine shop; Lunelli third generation—Marcello, Matteo, Camilla and Alessandro