Pale gold-straw color with hint of green; very floral nose with lemon, pear, and tropical fruit notes; citrus, lemon, lime, golden apple, tangerine, minerals on the palate.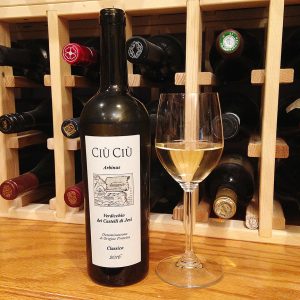 Very good acidity, very full body, good balance, refreshing, clean. Almonds delightfully emerge on the finish, along with touch of salinity and minerality from the vineyard location near the coast.
While likely not well know in U.S., the verdicchio grape is one of the most widely planted grape varieites in the Marche region of central Italy (Ancona on the Adriatic Coast is the capitol). The grape's history in wine making dates back at least 600 years. The Verdicchio dei Castelli di Jesi DOC (where this wine comes from) is just 20 miles from the Adriatic.
Verdicchio's name derives from verde—green, a reference to the grape's yellowish-green skin, which also gives the wine color its hint of green. The DOC and the grape produces food-friendly wines of good acidity with citrus elements and almonds; this wine precisely fits that profile. In times past, unfortunately, growers allowed verdicchio to over-produce and thus made uninteresting wines. As the wine drinking world became more sophisticated, many growers realized the gross error of their ways. Ciù Ciù happily is among the producers who sought quality over quantity.
The Ciù Ciù estate started small in 1970, but has grown considerably since then. It is located in the heart of the Piceno hills, at Offida (Ascoli Piceno), in the Rosso Piceno Superiore production area of the Marche region in eastern-central Italy (east of Tuscany). The estate, which produces a wide range of wines including reds, whites, rosés, and sparkling, is well south of the Verdicchio grape production area, but still focuses on Marche region with its more than 370 acres of vineyards.
The Ciù Ciù name honors the father of the estate founder Natalino Bartolomei (his wife Anna Maria Iobbi was also part of the effort). The father worked on the railroad, so the name is Italian for choo-choo. Yes, it is that wonderfully amusing. The estate is named after the sound a choo-choo train makes. Today, Natalino and Anna Maria's sons Walter and Massimiliano run the family operation.
Ciù Ciù Arbinus Verdicchio dei Castelli di Jesi Classico Superiore 2016 is spot-on expression of vardicchio grape, great with food, very refreshing and clean and priced very nice. $9-16
Photos: Ciù Ciù vineyards, Ciù Ciù early days, Bartolomei family