Pale straw color; minerals, white apple, lime nose; citrus, yellow apple, lime on the palate.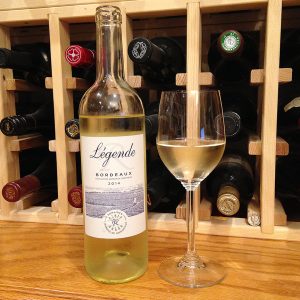 Classic Bordeaux blend of 50% sauvignon blanc and 50% sémillon; full body, loads of flavor, hint of fruit sweetness; fresh, nice acidity (the sauv blanc) and nice rounded mouthfeel (the sémillon).
Sauvignon blanc and sémillon is a classic white blend produced in Bordeaux, especially the Graves district; it appears grapes for this effort come from growers throughout the region. This is crisp, dry white wine, but the same combination of grapes also makes the world's most prestigious sweet white wine—Sauternes. This blend follows the modern trend of using only sauv blanc and sémillon. The original classic white Bordeaux also could include muscadelle, sauvignon gris, ugni blanc, colombard, and merlot blanc, but the simpler blend provides more market-friendly flavors and freshness.
Légende provides a journey through the different terroirs and tastes of the heralded Bordeaux appellation through the eyes of one of the region's most prestigious producers, Domaines Barons de Rothschild (Lafite).
According to the website: "It all started in the nineties. We wanted to offer our consumers a discovery of the different terroirs and tastes of Bordeaux. A name had to be found. A name that could live up to the expectations. A hint to the Rothschild family and the rich history of Château Lafite. A légende was born."
This effort is made by long-time Domaines Barons de Rothschild (Lafite) winemaker, Diane Flamand. Her wines strive for a balance between traditional and modern. They are affordable and appeal to those seeking every day drinkability and fun.
Domaines Barons de Rothschild Lafite Légende Bordeaux 2014 is nicely priced, classic Bordeaux white blend. Crisp, works well with food, easy to like, will please range of palates, including those disturbed by dry, strongly acidic whites while still being a wine with good acidity and palate-cleansing dryness. Nice trick. $12-18