Deep salmon color; strawberry on the nose; strawberry, raspberry, lilt of lemon and slice of grapefruit on the palate.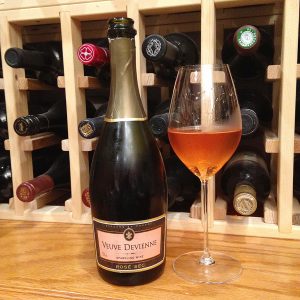 This is wine made in France using traditional method (méthod champenoise), but not in Champagne region, thus its "sparkling wine" designation. As a sec wine, there is some residual sugar (17-32 g/L), but this tastes very close to the minimum for sec and nice acidity and bright fruit easily prevent it from coming across as sweet wine.
It is made from gamay, cabernet franc, and pineau d'Aunis grapes. Light in the mouth, good perlage, emphasis is on strawberry, but the citrus elements play nicely on the mid-palate and finish. Refreshing, clean, amazing for the price.
Other than mentions that Veuve (widow) Devienne is long-time family operation somewhere in France, I could not unearth much about the maker. There is no website. Pineau d'Aunis is a red grape primarily grown in the Loire Valley around Anjou and Touraine, so that may be clue to the location of the winery. Pineau comes from French word "pin" and refers to pine cone shape of grape clusters—same as pinot noir. Aunis is a department in France, so grape name loosely translates as "pine cone of Aunis." Pineau d'Aunis is a rare grape, with barely over 1,000 acres planted in France, but those acres are in the Loire Valley. The dominant gamay grape in this effort also points to a Loire Valley location for the winery. Beaujolais is famous for gamay, which further indicates this is produced in Loire region. Beaujolais is south of the Champagne and Burgundy in the east-central part of France. For administrative purposes, Beaujolais is part of greater Burgundy.
Veuve Devienne Rosé Sec Sparkling Wine NV is superb sparkler for the price. It will serve very well as an aperitif at an event thanks to its charming salmon color and its hint of sweetness, thus appealing to a broader group of people than hardcore dry wine drinkers, and because of its price—few people yearn to serve $50-plus Veuve Clicquot to 200 people, for instance. This is several clicks above competitors that cost more and devastates bottles costing the same or less. $10
Photo: Beaujolais Valley sunset.