Brilliant, deep straw yellow-gold color with hint of green; white fruits and almonds on floral nose; yellow apple, citrus, saline on the palate.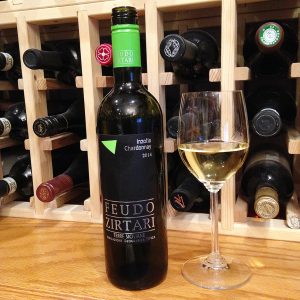 There is an intriguing hint of salt in this, reflecting both the Inzolia grape and the Sicilian vineyard. Insolia (also known as Ansconica) is an Italian white grape primarily planted in Sicily where it most famously is used to produce Marsala wine. Its nutty aroma, presented here as almonds, is a distinguishing characteristic. This is a blend of 55% inzolia and 45% chardonnay. Medium body, refreshing acidity, chard notes in the mix, but the intriguing saline elements stand out to me, making this a great candidate to pair with shellfish and other seafood. Also would work with elaborate egg-based dishes and sheep or goat cheeses.
This is a changeling in the mouth. Just when you lock on the chardonnay elements, the inzolia steps in and your palate says "whoa" where did that come from? A wine for the adventurous, but this is not risky—it is pleasing, just not in the same-old, same-old way. If you like your chard with butter and oak, this might expand your palate, or it might not go so well for you. Tastes more like a sauv blanc than any chard blend in my memory bank.
This bottle comes from Sicily, Italy's southernmost wine region, the largest island in the Mediterranean, and a place that has wine history dating back at least 2,500 years. Once famous for sweet muscats and fortified marsala, now Sicily is better known for dry whites produced under the IGT title Terre Siciliane (this bottle's designation).
Please forget the Sicilian wines of the 1980s and 1990s when grape growers went all in for high yields and produced cheap, imbalanced wines that lacked flavor. Happily, Sicilian winemakers recognized the slatternly error of their ways and now focus on lower yields and higher quality. Today, Sicily is one of the rising stars of Italian wine and often delivers fascinating flavors (this wine) and nice value (also this wine).
Feudo Zitari is a fairly obscure Sicilian winemaker. No website. No winery photos or owner backstories found online. I can give you website of the American importer, which is worth visiting and has some details about this interesting, good-value wine, as well as links to other worthy wines:
Importer site
Feudo Zirtari Inzolia-Chardonnay Sicili IGT 2014 is different, delicious in its own way, from up-and-coming Sicilian winemaker penetrating the America market. This is much more a sauv blanc replacement than an oaked California chardonnay alternative; you should give it a try. $11-12
Photo: Feudo Zirtari vineyard