Lovely ruby color with translucence; cherry, raspberry, strawberry on the nose; dark cherry, cranberry, raspberry, plum, licorice, cola on the palate.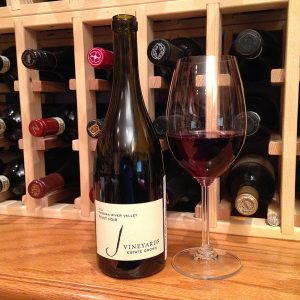 This is re-visit of vintage tasted early this summer. Notes are similar and positive.
Medium-full body; very smooth texture. Tasty fruit that avoids distracting over-ripe robustness found in some Russian River Valley pinots. Reserved oak; light, sweet tannin; malolactic fermentation in French oak and good acidity (3.65 pH) make this extraordinarily easy in the mouth, balanced, and food friendly. Definite red currant tartness on the finish, an interesting counterpoint after the so smooth beginning. Smoothness and correct fruit dominates in this delicious effort. Happily, drinks more like a southern Burgundy offering than a muscular California/Sonoma effort.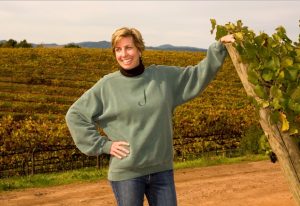 Judy Jordan—the daughter of Jordan Vineyard & Winery founder Tom Jordan—began J Vineyards & Winery in 1986 specializing in sparkling wine, but she then moved into pinot noir, chardonnay and pinot gris still wines.
This effort is labeled "Estate Grown," meaning it comes from J Vineyards more than 300 acres—one of the largest holdings in the Russian River Valley—around Healdsburg, California. Vineyards include Robert Thomas, Nicole's, Bow Tie, and Canfield. Each vineyard block's press was kept separate until final blending. Each vineyard, block, and clone was made separately, giving the makers 99 different lots to play with in the blending process.
In 2015, Gallo purchased Jordan's operation because, Judy explained: "the winery kept getting bigger and bigger, and it was more and more pressure with operations, and I was getting further and further away from what I particularly love, which is geology, terroir and the vineyard–because I was running a big company." So this is the last vintage grown under Jordan's ownership. We will see how J performs in the future, but this is delightful now.
Judy said she sold to Gallo because it is a family-owned business that shares her core values. Gallo knows how to run a big company (they are the largest family-owned wine operation in the world), and fortunately know how to allow wineries that do things right—which is why they were attractive properties in the first place—to continue to do things right. Pray that happens at J, because this is really nice stuff.
J Vineyards & Winery Pinot Noir Russian River Valley 2014 is extraordinarily smooth, balanced, delicious. $33-40